The Organic Honey of Meriggio is produced in the Alta Valbisenzio, in the heart of Tuscany. Beekeeping It breeds 150 beehives, with the certified organic method. The territory that our bees explore is rich in pristine forests of acacias and chestnut trees, which offer abundant blooms for the production of single- flower honeys of high purity. We carefully select the places where we breed bees, and this allows us to get a high quality honey. The hives are located in more apiaries, for easier management, which are located in the Valbisenzio. We also have two apiaries in the first mountain of Pistoia for the production of acacia and chestnut. In the winter months part of the hives are taken to the hills of Carmignane, where the milder winter allows an early spring recovery of the families.
In the laboratory, which we have recently obtained from the renovation of old farm premises, we take care of all the stages of honey production, from honey extraction to packaging.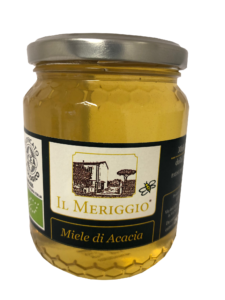 Miele di Acacia
The acacia honey is straw yellow, almost transparent and of liquid consistency. It remains liquid for a long time, thanks to its high concentration of fructose compared to glucose. The taste is sweet and delicate. The aftertaste confirms a fresh note of sweet almond. The scent also recalls that of confetto and vanilla.
250g – 500g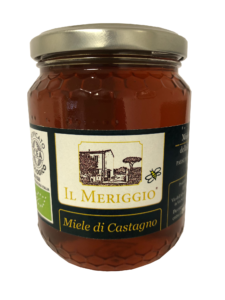 Miele di Castagno
With an intense amber color, with reddish shades, chestnut honey is characterized by its strong and bitter taste. The scent is pungent, and recalls that of dried chamomile, with tannic hints. It remains liquid for a very long time due to the prevalence of fructose compared to glucose.
250g – 500g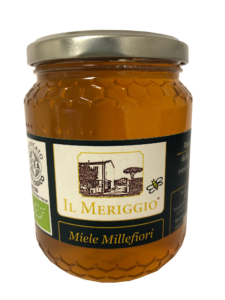 Miele Millefiori
The place and the period of production of the millefiori honeys determine the color and aroma. The bees, flying in an area with a radius of 3 km, visit countless species of flowers thus producing, in the absence of predominant blooms, a honey that tells the floral essence of a certain territory in the harvest season.
The spring millefiori produced in 2022 is characterized by its delicate and fruity flavor, given by the presence of the first nectars of the season typical of Valbisenzio, such as cherry, heather and acacia.
250g – 500g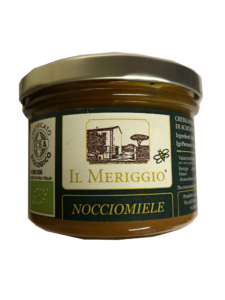 Nocciomiele
Nocciomiele is a simple and genuine spreadable cream, made only with two ingredients, the organic honey of Acacia della Valbisenzio and the organic hazelnuts of the variety Tonda Gentile del Piemonte IGP, universally known for being the best in the world. The delicacy and the sugary taste of Acacia honey are combined with the unmistakable taste of Piedmont hazelnuts, to exalt each other.
The Nocciomiele is fabulous in the coffee, perfect for garnishing crepes or crushed salted, ideal for enriching snacks and breakfasts with taste and energy.
210g